10 June 2009
Posted by DAVID BC TAN under: Malaysian schools; Teaching.
If there's one thing practically all of us are in agreement, it is this: something is terribly wrong with our education system but no one really knows how to fix it. So it no longer surprises anyone to hear that some institutions of higher learning are deliberately lowering standards to ensure their students pass crucial exams. Now isn't this rather unbecoming – and curious – of academia, especially when an institution's reputation could well be shredded by this kind of hanky-panky.
On the other hand, what is the public to make of the exam achievements of our primary and secondary school kids then? Following every public school exams we are feted to stories after stories of beaming students with strings of As. In March this year, Education Ministry director-general Datuk Alimuddin Mohd Dom announced that in SPM 6,277 students scored straight A's in all subjects compared with 5,060 in 2007. From the total 1,676 scored A1s in all subjects compared with 892 in 2007. So are Malaysian school kids getting smarter? Not so it seems.
It is common knowledge that a lot of tertiary students including these same straight As students are underperforming in college. They are doing so poorly, lecturers have to lower the bar so that the numbers look better. College lecturers I know admit the practice is so rampant no one bats an eyelid.
While fingers are pointed at colleges and universities for these regrettable lapses, educators trace the rot to secondary schools.
"We know of students who got straight As for PMR coming into our centre and they literally can't string together sentences properly," says Tan Poay Lim, principal of Creative Horizons Language Centre.

"Numbers of distinctions now are so high but the performance is still so low. Put the two and two together and you know that our standards have dropped."

With 20 years of teaching experience behind him, Creative Education Consultancy managing director Alagesan Arumugam has seen certain trends in the public school examinations.

"I have assessed some of my students and find it hard to comprehend that they are distinction students," he says. "On my tests, they would get 55% but end up getting 1A in SPM. It does look like it's relatively easy to score an A these days." [More]
According to this report, low standards in schooling assessments are apparently the culprit.
So what's the real problem here? Is it the language, the medium of instruction? Is it the lack of state-of-the-art facilities, computers and projectors? Crowded classrooms? The teaching methodology perhaps? Should we blame the curriculum? Or the ridiculously unimaginative textbooks our kids are fed with?
If you think this is a peculiarly Malaysian problem, do a bit of googling. You'll see that in almost every civilized country, there is just as much concern about declining education standards. Among critics it is thought that less political interference and more diversity, choice and competition will do the trick. Leave it to market forces, so they say. Surely, it is argued, if parents were given a choice of schools they prefer to send their children to, good ones will grow while bad ones would fold.
But according to The Economist (25th April), recently published research by the Institute of Education showed that neither choice nor competition has improved education standards, at least in the UK.
Significantly, a lot of research already shows that the answer lies in the hands of teachers. Good teachers, that is (See here and here). However while no one doubts that good teaching matters, there is little consensus about what makes a teacher effective, or what constitutes a good teacher. Meanwhile in education circles, the argument whether a certified teacher makes a qualified one continues to rage. According to conventional wisdom the more knowledge a teacher possesses (or the more training a teacher undergoes), the better qualified this teacher is.
Which is why critics of homeschool love to question if parents have what it takes to educate their own children.
For sure more training and more qualification can only improve teacher quality, but do they always translate into better teaching? On this point the jury is out. As numerous reports such as the ones mentioned suggest, conventional schools aren't exactly doing a good job either, even with all the emphasis on training and certification. Besides, why isn't more done to turn out better teachers?
My take is that a classroom teacher and a homeschooling teacher are two different things. There's a world of difference between teaching a class of 40 children according to a set syllabus, and educating your child at home. Obviously, the parent-child dynamics in the comfort of home are different. A parent as teacher is really a resource person and facilitator. This doesn't mean teaching a child at home is less demanding; it just means it requires a somewhat different approach, employing different sets of skills.
This is already a long piece, so I'll write about being a parent-teacher in my next post.
12 May 2009
Posted by DAVID BC TAN under: Education; Public Schooling.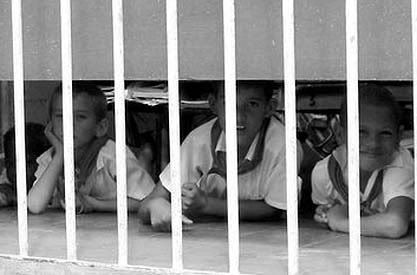 While the MOE dithers on the English-for-Science-and-Math issue, our political scientist and columnist Umapagan Ampikaipakan wades into the debate with his latest post in the NST headlined, Master English by learning English, not others. He argues against the current arrangement and you can read what his counter proposal is. There is an undercurrent raging against English for Science and Math and there are similar sentiments shared by the ruling party UMNO. Well, all this flip-flopping is enough to drive parents up the wall.
However what's emasculating the education system in the country goes beyond the language debate. Let Mr Ampikaipakan tell you what school was like for him. If it sounds familiar it's because it is so true for so many of us. Indeed, it's an indictment against every educator who believes schools are what our kids need:
But there is more to the problems that plague our education system than just the language in which we are taught. It is merely a distraction from all that really ails us. Our system is broken, in that it fails to educate our youth, let alone inspire them. We are shut up in our schools and in our colleges for years, and come out in the end with little else than a brief grasp of language and some memory of the thoughts of other men.

For 11 years, I, too, was held captive, cold irons bound, in the claustrophobic confines of the Kurikulum Bersepadu. My dreams tortured by the spectre of Afonso de Albuquerque. His disembodied head, muttering in Portuguese, insisting, over and over again, that his name is in fact pronounced: "Al-Buh-Kur-Kee".

I can barely call to mind all the things I was taught in school. I remember being bored. It is the one compelling memory of those days. I remember being bored and I remember being sweaty.

I remember being cooped up in a little room with rickety chairs and a squeaky ceiling fan. I remember 44 other people. I don't remember their names or their faces but I remember their smells. I remember that cleaning the blackboard after class would give me an asthma attack.

I would sneak storybooks into school, hiding them between textbooks, in those small spaces underneath those rotten wooden desks. I would read them, surreptitiously, while the rest of the class struggled with the base six number system. They were my only escape. The only way I could endure my sentence. Year after year, with no early reprieve for good behaviour.

I remember being taught to pass exams. I remember being taught the importance of the almighty "A". I remember being taught to memorise facts. I remember being taught. I do not remember learning. I do not remember having to think. I do not remember why.

It is an unfortunate truth, but our education system gives birth to drones. Human computers that are able to regurgitate, with great efficiency and accuracy, everything that has been fed to them. And little else.

Therein lies our greatest failing.
Comments Off on 11 years in prison
4 May 2001
Posted by DAVID BC TAN under: Uncategorized.
Prime Minister Datuk Seri Dr Mahathir recently unveiled the 8th Malaysia Plan: 2001 – 2000, which incidentally addresses targets set out in the Third Outline Perspective Plan or OPP3 (2001-2010). It's a broad template spelling out macroeconomic strategies with all the requisite catchphrases and statistics to assure Malaysians that the ship's afloat, the captain's on board, that we know where we're going. Looking at the development thrusts, one can't help but detect an indignant clatter not unlike that of an engine revved alive on a cold day. It's an unenviable task; someone's got to do the job, but enough about my old car…
My attention was particularly drawn to the part about education, which in the New Straits Times was ominously headlined "More Jobs Will Be Created: Education system to be responsive to needs of industries.""to unite the people" and that a total revamp was pretty much due. Now I get goose bumps when I hear announcements like this, but it's probably just me. That's not unusual as governments the world over are known to view education as some kind of utilitarian apparatus plugging human resource needs. Earlier in the same month, newspapers front-paged the PM's lament that the education system had failed
Meanwhile, as if to drive the message home, newspapers highlighted two shocking acts of violence in our schools on the heels of that report: In the first case, a teen was stabbed during a school assembly, in front of teachers and students who were too stunned to react. In the second, another teen who was literally hammered on the head, landed in hospital with a broken skull.
Clearly the state of education in the country is way beyond "I-told-you-so," the service and sacrifice of dedicated school teachers notwithstanding. Who's to blame? Is the pit it has descended one we dug for ourselves? A revamp is undoubtedly urgent, but schools can only do so much. That's why I believe homeschool makes more sense.
Nevertheless, if school reform is all about shuffling human resource more efficiently into the marketplace, I'm afraid that's selling our children short. It seems to me when cultivation of virtue is sacrificed at the altar of economic or political expedience, there is hell to pay. So, why do parents still insist on measuring their children's worth (and their own) according to the nuts and bolts of our materialistic culture?
I remember in a conversation not long ago when Sook Ching mentioned in jest that our son Elliot's interest in insects could well lead to a career in entomology. Better to be a geneticist, a leader helpfully advised; entomologists don't make money. The world we live in may increasingly resemble an impersonal technopolis or a gigantic machine, but it does not follow that we should become cogs in the wheel. Sure, competition is tough and society scoffs at losers.
Thankfully people count for more in God's divine economy, and I'm glad He's the one keeping score.
"But each one should be careful how he builds. For no one can lay any foundation other than the one already laid, which is Jesus Christ. If any man builds on this foundation using gold, silver, costly stones, wood, hay or straw, his work will be shown for what it is, because the Day will bring it to light. It will be revealed with fire, and the fire will test the quality of each man's work." 1 Corinthians 3:10~13
Comments Off on Divine economics