11 years in prison
Posted by DAVID BC TAN under: Education; Public Schooling on 12 May 2009.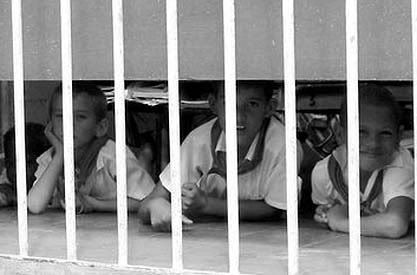 While the MOE dithers on the English-for-Science-and-Math issue, our political scientist and columnist Umapagan Ampikaipakan wades into the debate with his latest post in the NST headlined, Master English by learning English, not others. He argues against the current arrangement and you can read what his counter proposal is. There is an undercurrent raging against English for Science and Math and there are similar sentiments shared by the ruling party UMNO. Well, all this flip-flopping is enough to drive parents up the wall.
However what's emasculating the education system in the country goes beyond the language debate. Let Mr Ampikaipakan tell you what school was like for him. If it sounds familiar it's because it is so true for so many of us. Indeed, it's an indictment against every educator who believes schools are what our kids need:
But there is more to the problems that plague our education system than just the language in which we are taught. It is merely a distraction from all that really ails us. Our system is broken, in that it fails to educate our youth, let alone inspire them. We are shut up in our schools and in our colleges for years, and come out in the end with little else than a brief grasp of language and some memory of the thoughts of other men.

For 11 years, I, too, was held captive, cold irons bound, in the claustrophobic confines of the Kurikulum Bersepadu. My dreams tortured by the spectre of Afonso de Albuquerque. His disembodied head, muttering in Portuguese, insisting, over and over again, that his name is in fact pronounced: "Al-Buh-Kur-Kee".

I can barely call to mind all the things I was taught in school. I remember being bored. It is the one compelling memory of those days. I remember being bored and I remember being sweaty.

I remember being cooped up in a little room with rickety chairs and a squeaky ceiling fan. I remember 44 other people. I don't remember their names or their faces but I remember their smells. I remember that cleaning the blackboard after class would give me an asthma attack.

I would sneak storybooks into school, hiding them between textbooks, in those small spaces underneath those rotten wooden desks. I would read them, surreptitiously, while the rest of the class struggled with the base six number system. They were my only escape. The only way I could endure my sentence. Year after year, with no early reprieve for good behaviour.

I remember being taught to pass exams. I remember being taught the importance of the almighty "A". I remember being taught to memorise facts. I remember being taught. I do not remember learning. I do not remember having to think. I do not remember why.

It is an unfortunate truth, but our education system gives birth to drones. Human computers that are able to regurgitate, with great efficiency and accuracy, everything that has been fed to them. And little else.

Therein lies our greatest failing.
Comments are closed.