7 Habits of Highly Effective Families
Posted by DAVID BC TAN under: Book Review; Guest Writer on 20 Sep 2002.
GUEST WRITER: Celine Leslie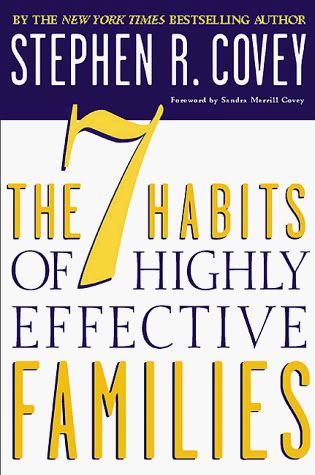 Some readers may recognise the author from his previous book, "The 7 Habits of Highly Effective People". This highly acclaimed and well-received management book contains in-depth insights into keys for more effective living. Although it was written primarily as a management tool, the principles outlined are applicable to people from all walks of life. In fact, most of Covey's examples are from real-life family situations. It is therefore no surprise that he follows up with another gem of a book, this time directed specifically at family living.
Using the same seven habits of his first book, but applied to family life, Covey has created an inspiring, challenging and highly readable practical manual for developing and maintaining "highly effective" family living. While the definition of "highly effective" is not pursued rigorously, it is taken for granted that most of us, Christian or otherwise, desire strong, healthy, family relationships. Whether we live in a healthy family atmosphere or not, we instinctively know that the really important things in life at the end of the day have to do with building and maintaining lasting, strong, fruitful family ties. The book does not assume the background of the reader and applies even to singles who have not started their own family but wish to apply these principles to their adult family situations.
Each chapter is filled with real-life examples, many of them Covey's own. He is down-to-earth and honest, never presenting the picture of that "out-of-reach" perfect family. His language is practical and sometimes humorous, almost always inspiring. His ability to "peel" and explore the depths of the principles (which at first glance, are obvious and indisputable), suggesting applications in diverse situations, is outstanding. At the end of each chapter, there are study questions for discussion with family members, with a section for those with young children.
While the market is saturated with books to help families, I don't think I have come across a more readable, digestible, practical and challenging book that addresses many core issues of family living. Covey does not take an overtly Christian viewpoint, although he makes it clear that he is personally guided by spiritual principles. It is not obvious from his writings that he is a Mormon, but I don't find anything objectionable in his book.
Comments are closed.